Oscars 2014: Pizza delivery man is handed $1,000 tip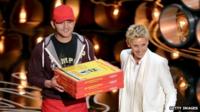 A pizza delivery man who gave out food at the Oscars has been given a $1,000 (£600) tip.
The ceremony's host Ellen DeGeneres helped pass around boxes with stars including Brad Pitt and Jennifer Lawrence reaching for a slice.
Edgar Martirosyan, co-owner of Big Mama's & Papa's pizzeria, appeared on Ellen DeGeneres' talk show.
The interview ended with him being given a tip that had been collected in the audience.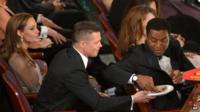 Martirosyan said he was told he would deliver food for celebrity riders.
Speaking to DeGeneres he added: "They told me just wait here and you came out.
"You said, 'I'm going to let you know when to follow me' and then I was like, 'Where we are going?'
"You said 'Just follow me' and I'm going and then I'm on a stage.
"I was shocked. It was really crazy."
The delivery man said that he was most excited to give food to Julia Roberts.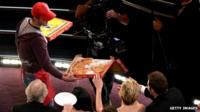 The Oscars saw 12 Years a Slave named best film with Gravity picking up seven awards.
During the ceremony DeGeneres collected a tip for the delivery man in a hat like the one Pharrell Williams wore to the Grammys.
She gave him $600 (£360) which was collected from the audience before pulling out $400 (£240) from her pocket to bring the total to $1,000 (£600).
Follow @BBCNewsbeat on Twitter