Coldplay unveil release date of new album Ghost Stories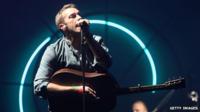 Coldplay have announced the details of their sixth studio album, Ghost Stories.
The release, which is the follow-up to 2011's Mylo Xyloto, will be out on 19 May.
The band announced the news via Twitter, where they also posted a link to the lead single Magic.
All of Coldplay's previous studio albums, including A Rush of Blood to the Head and X&Y, have gone to number one in the Official Album Chart.
Following the announcement, Magic was played on the BBC Radio 1 Breakfast Show with Nick Grimshaw.
Last week, the band unveiled the video for another new track called Midnight which will also feature on the new album.
Before Midnight, Coldplay's most recent single was Atlas which features on the soundtrack of The Hunger Games: Catching Fire.
The track, which was nominated in the best song written for visual media category at this year's Grammy awards, will not feature on Ghost Stories.
The band also recently announced they would play at the opening night of the first US iTunes festival, on 11 March.
The iTunes event, held in London for the last seven years, will be staged alongside the South by Southwest (SXSW) music showcase in Texas.
Ghost Stories is available to pre-order now.
Follow @BBCNewsbeat on Twitter