Oscars 2014: Ceremony highlights you may have missed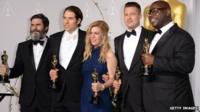 British director Steve McQueen celebrated a best picture win alongside Brad Pitt for 12 Years a Slave.
Alfonso Cuaron became the first Latino to win the best director prize at the Oscars, for Gravity, which got seven awards over the evening.
Cate Blanchett won best actress, while Matthew McConaughey was named best actor.
Those were the headlines from the 86th Academy Awards, but what else did the stars get up to on the night?
Benedict Cumberbatch photobombs U2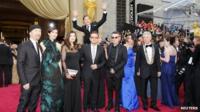 The Sherlock actor was at the Oscars to present the award for achievement in production design.
On his way in to the ceremony, the 37-year-old aerial photobombed U2, jumping up behind the Irish rock band.
They later performed Ordinary Love, their track from Mandela: Long Walk to Freedom.
Jennifer Lawrence trips up, again
Last year the actress stumbled on her way to the collect the award for best actress for Silver Linings Playbook.
This time around the 23-year-old tripped up on the red carpet.
Host Ellen DeGeneres joked: "If you win tonight, I think we should bring you the Oscar."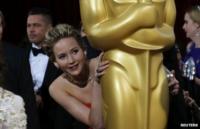 Anybody order pizza?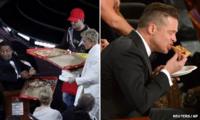 A pizza delivery turned up midway through the ceremony.
Ellen DeGeneres helped pass around the boxes with stars including Brad Pitt, Jennifer Lawrence and Chiwetel Ejiofor all reaching for a slice.
She later collected a tip for the delivery man in a hat like the one Pharrell Williams wore to the Grammys.
Twitter record broken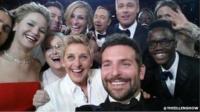 This celebrity-filled selfie posted by Ellen DeGeneres is now the most retweeted image in Twitter's history, after a campaign by the Oscar host.
The photo includes Jennifer Lawrence, Meryl Streep, Kevin Spacey, Brad Pitt, Julia Roberts, Bradley Cooper and best supporting actress winner Lupita Nyong'o.
It has now been retweeted more than 2.3m times.
Ellen's costume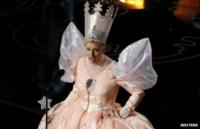 The host, returning for the second time, made multiple costume changes.
The critical response to her performance has mostly been positive.
Opening the ceremony she joked: "It's going to be an exciting night. Anything can happen, so many different possibilities.
"Possibility number one, 12 Years a Slave wins best picture. Possibility number two, you're all racists."
Pharrell dances with the stars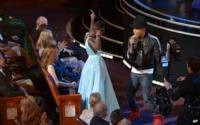 Pharrell performed his Oscar-nominated song Happy from the film Despicable Me 2.
Actresses including Lupita Nyong'o, Meryl Streep and Amy Adams joined him in the audience for a dance.
The song was also revealed to have topped the UK charts for a third time this week. It is only the third time in history this has happened.
Follow @BBCNewsbeat on Twitter