Haim: Meeting Macca most important moment of our lives
28 February 2014

From the section

Music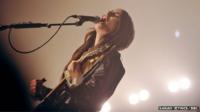 Sat in their dressing room at the 6 Music festival, Haim are still reeling from the NME Awards.
"I think that might be the most important moment of our lives" gushes singer Danielle.
They're not talking about beating Arcade Fire and Vampire Weekend to be named winning Best International Band.
Instead it was plucking up the courage to introduce themselves to Sir Paul McCartney.
"There's photo evidence so we're not lying," chips in Alana, the youngest member of the band.
While it appears the meeting only happened because Este had the guts to approach him.
"It's kind of a bucket list situation when you are talking about a Beatle being in the same room as you," Danielle told Newsbeat.
"I don't normally do that, if I am a fan of someone I'm going to tell, but it's not like I give it out like party favours, so it was a big deal to me."
So what do you say when you meet your idol?
"I was like hey Sir Paul my name's Este Haim, I'm in a band and I'm a really big fan of yours, I was super dorky about it."
She admitted he had heard of the band or at least seen their posters around London.
Thoughts are turning to the follow up to their number 1 album Days Are Gone.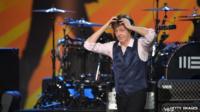 "We are always writing," Alana Haim explained.
They want to get the record out as soon as they can.
"We kind of take a long time in the studio so we'll see, it might take some time but not too much."
Although they've met their hero Sir Paul McCartney, there is another P they need to tick off the list.
"We've always wanted to work with Prince, he hasn't returned our calls yet," laughs Alana.
"Maybe we should just shut up about it, maybe he is freaked out."
They are off to Paris after performing at the 6 Music Festival at the Victoria Warehouse in Manchester.
It's the first time the BBC Radio station has put on a music event of this scale.
Damon Albarn, Jake Bugg, James Blake and Bombay Bicycle Club are all on the line-up.
You can watch the performances live here..
Follow @BBCNewsbeat on Twitter