Seth Rogen and Ben Affleck testify in front of Senate
Actors Seth Rogen and Ben Affleck have both given evidence to the US Senate about causes close to their hearts.
In separate committee meetings, Rogen talked about the effects of Alzheimer's disease while Affleck testified about the Democratic Republic of Congo.
Rogen began with a joke, thanking senators "for the opportunity for me to be called an 'expert' at something".
He added: "Yes, I am aware that this has nothing to do with the legalisation of marijuana."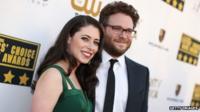 The star of films including Knocked Up and Pineapple Express spoke on Wednesday about the experience of having a family member getting Alzheimer's disease at a young age.
His mother-in-law was diagnosed with the disease in her fifties.
Rogen and his wife Lauren started the organisation, Hilarity for Charity, to help educate young Americans about Alzheimer's.
House of Cards
"The situation is so dire that it caused me, a lazy, self-involved, generally self-medicated man-child to start an entire charity organization," he said.
He testified: "I came here today for few reasons. One, I'm a huge House of Cards fan.
"Two, people need more help. I've personally witnessed the massive amount of financial strain this disease causes.
"The third reason I'm here, simply, is to show people that they're not alone."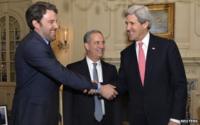 Meanwhile Affleck, who won a best film Oscar for Argo - a thriller based on the true story of American diplomats taken hostage in Iran - which he directed and starred in, spoke about the problems in the DRC.
"It's just a pleasure to be back at the real State Department," he said of the meeting.
"I had to fake it for Argo. I get to see the real thing here. This part's much better.
"This area was too fancy to try to recreate so we just recreated white hallways with coloured stripes."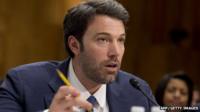 During his testimony he outlined some of the problems faced in the DRC and appealed for help from the government.
Affleck added: "It is in fact that while this is a region that's suffered enormous damage and trauma, and this fire is now abating a little bit and we have a window where engagement on the part of the secretary, the president and Congress collectively can make a real difference."
Follow @BBCNewsbeat on Twitter