Giant Australian mango monument 'disappeared' overnight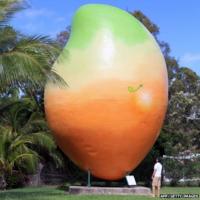 A giant mango monument "disappeared" overnight from a town in Australia.
The Big Mango, first erected in 2002, was stolen, according Bowen Tourism chairman Paul McLaughlin.
"It looks like it was sort of two o'clock this morning-type thing. There was... some heavy equipment and it looks like they've taken the mango," he told the Australian Brodcasting Corporation.
The seven-tonne, 10-meter mango marked the abundance of the fruit in the area.
An officer at the Bowen Police Station told Fairfax Media in Australia they were not investigating the mango disappearance at this stage.
A report Guardian Australia suggests that theft may have been a marketing stunt, with a media release including details of Banjo Advertising, an agency from Sydney.
Giant fishes
The Queensland landmark is one of more than 150 Big Things - kitsch tourist attractions which include other giant fruit such as a strawberry, banana, pineapple and numerous oranges and apples.
There are also giant fishes, a lobster, penguin, kangaroo, koalas, and a giant cask of wine.
Mr McLaughlin said he thought it was a joke when he was first informed of the theft of the mango.
"I've come out and sure enough the mango has disappeared," he added.
Officials said there was surveillance camera footage of the heist.
"At the end of the day it's a bloody big mango and I'm sure someone will see it and we'll find it anyway," Mr McLaughlin told the Brisbane Times.
"I think it'll definitely turn up, no doubt about that. We're not sure what has happened but I'm sure we'll get it back," he added.
According to Bowen Tourism, The Big Mango was completed at a cost of A$90,000 (£49,000), almost A$60,000 (£32,000) over budget.
Follow @BBCNewsbeat on Twitter