Ukrainian government 'should consult with us'
24 February 2014

From the section

Politics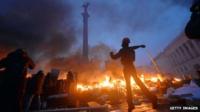 Police are now looking for Ukraine's former president after he was toppled from power over the weekend.
A warrant has been put out for Viktor Yanukovych for "mass murder". He was last seen over the weekend in the south east of the country. Newsbeat has been speaking to 26-year-old Olly from Ukraine. She travelled to Kiev to protest and is calling for change.
She tells us, despite the toppling of Viktor Yanukovych, many of her friends are still concerned about the new government.
"We want to see what they are talking about. We want them to consult with us"
After days of violent anti-government protests which, have left more than 80 people dead, Olly says the violence is intolerable.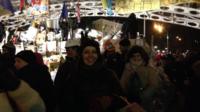 "To injure someone, to shoot at somebody, it's unacceptable in European countries. It was shocking."
But she explains that Ukrainians could not just sit back.
"They couldn't just go and accept any agreement with [Viktor Yanukovych], the person who has killed his own people."
Olly believes that even though the president is now on the run, the revolution will continue.
"I still don't think that we should talk about this revolution in the past because it's still going on," she says.
Follow @BBCNewsbeat on Twitter