Sam Worthington arrested after photographer is punched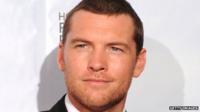 Sam Worthington has been arrested in New York after punching a photographer.
The 37-year-old Avatar actor was arrested on an assault charge following the incident on Sunday evening.
The Australian actor was released and is due to appear in court on Wednesday.
It's thought Worthington retaliated after the photographer kicked his girlfriend, Lara Bingle, in the shin but police did not confirm what caused the incident at the time.
The photographer, 37-year-old Sheng Li, was arrested on charges of reckless endangerment, assault and harassment.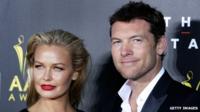 Director James Cameron recently revealed that Worthington will star in the three Avatar sequels.
His co-star Zoe Saldana has also been signed up the films, which are scheduled to begin production later this year.
Worthington will continue as former marine Jake Sully, while Saldana will play Na'vi huntress Neytiri.
"I am beyond pleased they'll be returning with us to Pandora," said Cameron.
The original film was released in 2009 and won two Golden Globes in 2010.
Avatar made an estimated $760.5m (£463m) at the box office and took more than £8.5 million in its opening weekend in the UK.
Follow @BBCNewsbeat on Twitter