Attitudes towards same-sex relationships are 'changing'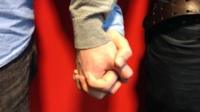 Attitudes towards same-sex relationships in Northern Ireland have softened, according to researchers at Queen's University Belfast.
A study found 28% of the 1,200 people polled believe gay relationships are "always wrong".
That's down from 76% 25 years ago.
Research also found many people still don't believe gay couples should be allowed to adopt, but young people did show support for gay marriage.
Colin McCrory from Belfast is gay and is hoping to join a civil partnership later this year.
He isn't surprised by the figures and feels life in Northern Ireland is generally accepting of gay people and has never had any trouble.
"A lot of people are more open these days," he said.
"Not only to gays and lesbians but just a lot of things, communities have become more acceptant."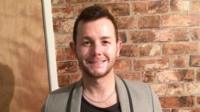 He added: "I would say to the 20 odd per cent of people that still think same sex marriage is wrong that times are changing and gay marriage will be legal here sooner or later so there's no point hindering it any longer."
Dr Nicola Carr, who helped carry out the study, said: "Over half of the survey's respondents expressed support for same-sex marriage."
She added that there was still some disapproval of gay adoption and also to lesbians having access to fertility treatment on the same basis as heterosexual women.
They survey also suggested at least one in four people did not believe that a lesbian or gay parent or parents with a child constituted a "family".
'Shocking that we're behind'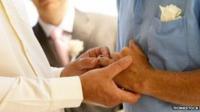 England and Wales will see gay marriage become law in March.
The Scottish Parliament has approved in principle legislation to introduce same-sex marriage, which is opposed by the Church of Scotland and Catholic Church.
The Northern Ireland Assembly is not currently considering any legislation to allow same-sex marriage.
Colin thinks politicians in Northern Ireland are "completely out of touch" and need to get in line with Britain and introduce gay marriage.
"I think it's shocking that we're [Northern Ireland] way behind in the UK," he said.
"I think it's ridiculous when we're a country that is so proud to be part of the UK and we've got our politicians fighting to remaining part of the UK yet we can't follow the same laws that they have."
The survey also found that, in general, females and those aged under 65 were more likely to report positive attitudes to same-sex relationships.
Northern Ireland is generally more religious than the rest of the UK and Colin believes that plays a big part in informing peoples attitudes.
"The 28% that don't agree would be your hard lined 'bible bashers' and the older community who maybe don't understand as much as they don't agree with it."
The findings suggest that while the majority of those who were listed as having no religion (74%) or as Catholic (66%) supported same-sex marriage, less than half (45%) of those defining as Protestant were in support of it.
Follow @BBCNewsbeat on Twitter