WhatsApp apologises to users for system crash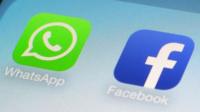 WhatsApp has apologised to users after its system went down for more than two hours on Saturday evening.
The team behind the instant messaging service blamed "server issues" for the crash.
WhatsApp has more than 450 million global users every month.
On Wednesday Facebook announced it was buying the company in a deal worth £11bn.
Problems were noticed by users including Olympic diver Tom Daley who tweeted: "Anyone else's WhatsApp stopped working?"
At 8.16pm WhatsApp tweeted: "Sorry we currently experiencing server issues. We hope to be back up and recovered shortly."
At 10.48pm they announced: "WhatsApp service has been restored. We are so sorry for the downtime."
Around 70% of WhatsApp's users use the app every day, according to Facebook
The service allows users to send messages over internet, avoiding text messaging fees.
It's claimed it is currently registering one million new users a day.
Speaking after Wednesday's takeover, Facebook founder Mark Zuckerberg described WhatsApp's services as "incredibly valuable".
Facebook's deal to buy WhatsApp is not expected to go through until later in the year.
Follow @BBCNewsbeat on Twitter