Former Radio 1 DJ Chris Moyles 'accepts' tax ruling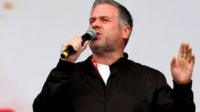 Former Radio 1 DJ Chris Moyles says he's learnt a "valuable lesson" after a court found that he'd tried to avoid paying up to £1 million tax.
A tribunal heard he claimed to be a second-hand car dealer to try to save money.
He and two other men were accused of taking part in a scheme called "working wheels" between 2006 and 2008.
Chris Moyles tweeted: "I take full responsibility and have learnt a valuable lesson."
The scheme worked by allowing its members, said to include other celebrities and high-earners, to say they had incurred large fees while working in the second-hand car trade.
They could then claim back against their tax bill.
A published judgment from the Tax Chamber of the First-tier Tribunal focussed on the former DJ's self-assessment tax return for the financial year ending on 5 April, 2008.
At the time he was presenting the Radio 1 Breakfast Show but documents showed him as "engaged in self-employment as a used car trader".
In a series of tweets, the 39-year-old said: "Upon advice, I signed up to a scheme which I was assured was legal.
"Despite this, my knowledge of the dealings of the scheme were naive."
Chris Moyles did not give evidence but did submit a witness statement.
The tribunal, under Judge Colin Bishopp, described that evidence as "very brief and rather uninformative".
He added: "It is however quite clear from the statement that he too entered the scheme for no purpose other than to achieve a tax saving, and that he took no interest in the trade."
The written judgment went on to say that Chris Moyles was "anxious to be reassured that the scheme was lawful, and that he would not have to undertake any trading himself".
After the judgment, Chris Moyles, who left the Radio 1 Breakfast Show in September 2012, tweeted: "I'm not a tax expert and acted on advice I was given.
"This was a mistake and I accept the ruling without reservation."
In a statement, the BBC said: "The BBC is not a party involved in this tribunal, and we understand that Chris Moyles has taken full responsibility for his tax arrangements, which are of course a matter for him and HMRC."
Since leaving the BBC, Chris Moyles has starred in a UK arena tour of Jesus Christ Superstar, where he played the role of King Herod.
Follow @BBCNewsbeat on Twitter