Modern Family star groped by fan in Australia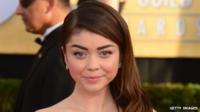 A 29-year-old man has been charged after one of the stars of US sitcom Modern Family was allegedly assaulted during a trip to Australia.
Sarah Hyland, who plays oldest sibling Haley Dunphy in the comedy series, was posing for a photograph with a fan outside a hotel in Sydney when he allegedly groped her chest.
The unnamed fan was charged with assault with an act of indecency.
He was freed on bail and is set to appear in a Sydney court on 14 March.
The charge carries a potential five year prison sentence.
Following the incident, Hyland tweeted: "Sorry to all the fans outside... that I didn't get to say hi to but I had to leave due to an inappropriate touch of a fan."
The 23-year-old actress and the other Modern Family cast members are in Australia filming an episode of the show.
As well as Sydney, the show is also set to include a scene filmed at the Great Barrier Reef.
Golden Globe and Emmy Award winning Modern Family first aired in 2009, with the fifth series currently being shown in the UK.
The show is filmed in mockumentary style, with the fictional characters frequently talking directly into the camera.
Follow @BBCNewsbeat on Twitter