Pharrell: Cara Delevingne is bigger than expectations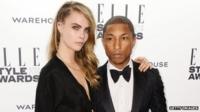 Pharrell Williams has said Cara Delevingne "is much bigger than everyone's expectations."
He told Newsbeat: "There's a couple of whispers. They're asking about music, they're asking about films.
"I think at the end of the day what people should probably focus in on... what she's up to next. Trust me."
Pharrell added he's happy that Cara is part of his multimedia franchise i am other and that "there's going to be some really cool things" to come.
Speaking at the Elle Style Awards, the Get Lucky singer added: "The films only get better, the parts only get bigger, the music only gets better, the modelling only gets better but the spirit is becoming refined."
Cara, who presented Pharrell with his international recording artist award at the ceremony, said she was flattered by what he had said.
"I'm kind of speechless at this point, I don't really know what to say. He's kind of blown my head out of the water."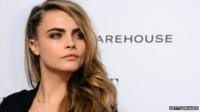 When asked whether she preferred singing, acting or modelling Cara said: "You can judge that for yourself when it happens."
The 21-year-old said balancing all her commitments is sometimes hard to keep up with.
"I think when I stop and think about it just confuses me more and more because I can't really process it all quickly. But it's good. It's the same as always - crazy, madness, chaos all organised somehow. Something like that."
Pharrell Williams will perform at The Brit Awards this evening.
Follow @BBCNewsbeat on Twitter