'Lucy's death has made everybody appreciate what's close'
18 February 2014

From the section

Health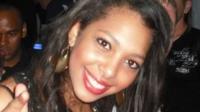 Suicide rates have fallen in the UK according to the latest figures from Office for National Statistics.
In 2012 nearly 6,000 suicides in people aged 15 and over were registered in the UK, down slightly from the year before.
But there's still a significant difference between men and women, with suicide rates for men were more than three times higher compared to women.
Newsbeat has spoken to one family who describe losing someone who takes their own life.
Lucy Rayner was "bubbly", "lively" and "the most beautiful girl you could imagine" according to her mum and sister, Jenny and Becky Rayner and boyfriend Christian Wimhurst.
But, in 2012 she took her own life near her family home in Reigate, Surrey. She was just 22 years old.
Jenny Rayner described her as "quite a deep person, she had many sides to her she was bubbly, lively and a little bit vain."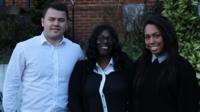 But despite appearing positive on the outside, Lucy kept many of her of her true feelings inside, her 23-year-old sister Becky explained.
"She had mood swings, one minute she was really high the next minute she was really low. It just came to a point where as a family if she was really low we just had to leave her to it."
On the day of Lucy's death the Rayner family were all out for dinner. Lucy's body was found by a neighbour in the woods at the back of their house.
"We got a phone call, we were like 'How could something like this happen?'," Becky explains.
"Even to relive the day now it still feels like it was a film... It was all just crazy at the time."
Jenny reveals that despite knowing her daughter had mood swings, she never thought it would have led to her death.
"She told us that she'd thought about it [suicide] but I'd never ever thought that she'd actually do it."
Christian said his life without Lucy is much different.
"You spend nearly every day with that person and then suddenly they're not there," he said.
The Rayner family have since set up a charity, the Lucy Rayner Foundation, to raise awareness around the issue.
"I get involved with the Samaritans, they've helped me a lot, and running the marathon that was a goal of my sisters'."
Christian said, although losing Lucy has been difficult, it has helped him to open up more.
"It's made everybody appreciate what's close to them," he said.
"It's also taught a lot of people to open up more.
"I think that this has especially for me made me listen to people."
Visit the BBC's advice pages if you're affected by any of the issues in this story.
Follow @BBCNewsbeat on Twitter