Dame Helen Mirren: Acting should be affordable
Dame Helen Mirren says she fears only young people with rich parents will be able to afford to consider careers in acting in the future.
"I could only become an actress because of the existence of the National Youth Theatre (NYT)," added Mirren.
A year of tuition at a private acting school can cost upwards of £9,000.
"I mean talent and ability, of course you can find it in a posh person but you can find it in the least posh person too," she said.
The NYT is a charity that offers free training to young people hoping to make a career of acting or working behind the scenes in the theatre.
Each year it holds open auditions for 14 to 24-year-olds.
Successful candidates could then be enrolled on the charity's free eight month intense training programme.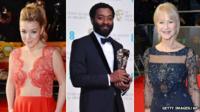 Benidorm star Sheridan Smith also got her start through a charitable group, the National Youth Music Theatre.
"There is so much talent all over the UK and they are not getting the opportunities to come and act," Smith said.
The 32-year-old actress has appeared in Benidorm, Two Pints of Lager and a Packet of Crisps and ITV drama Mrs Biggs.
"There is no way I could have afforded the drama school fees. I moved to London when I was 16," explained the actress.
On Sunday night (2 March) 12 Years A Slave star Chiwetel Ejiofor could leave the Oscars with the best actor prize.
But there are fears future acting talent like his could be missed.
Ejiofor received his big break at 18 when he starred in a NYT production of Othello and was spotted by an acting scout working for Steven Spielberg.
The British Film Institute calculates that the UK film industry is worth more than £4bn pounds a year to the economy.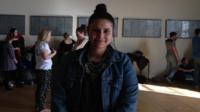 Zainab Hasan, 22, is hoping to follow in Dame Helen Mirren's footsteps.
"My dream job? Maybe as Lady Macbeth opposite Ryan Gosling because he's a bit of hotty totty."
Zainab has just graduated from from the National Youth Theatre's REP scheme, a free eight month intense training programme.
She's now auditioning for jobs after being signed to an agency.
"I don't have the financial backing to have been able to afford drama school," Zainab told us.
Before auditioning for a place at NYT Zainab applied to study drama at university but couldn't afford it.
"I think supporting young people, regardless of what they want to get into, is important.
"Not doing so is what creates a vicious circle. They then end up doing a job they don't want to do or not work at all and being stuck in a rut."
Follow @BBCNewsbeat on Twitter