Aimee Fuller: I wasn't going to sit and be quiet
British snowboarder Aimee Fuller said "all emotions ran wild" when she was commentating on team-mate Jenny Jones winning bronze at the Winter Olympics.
After finishing ninth in the semi-final of the slopestyle competition, Fuller joined BBC commentators Tim Warwood and Ed Leigh for Sunday's final.
However, the commentary attracted more than 300 complaints from viewers.
"She is one of my best buddies and she just won an Olympic medal so I'm not going to sit and be quiet," said Aimee.
Jenny's third place was the first time Team GB have won a medal on snow at a Winter Olympics.
But some people said the television coverage was biased towards the British athletes.
"It was a history-making moment so it was so cool to be a part of that," Aimee added.
'A huge honour'
She described taking part in the Winter Olympics as "the craziest two weeks you could imagine".
Talking to Newsbeat with team-mate Jamie Nicholls, the snowboarder said it has been great to put their slopestyle event on the map.
"It's [having that level of exposure] not something that us as snowboarders are used to," she said.
Jamie added that representing Team GB was "such a huge honour".
"I never expected to get to the Olympics and just to get there is a dream come true," he said.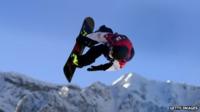 Jamie finished sixth overall in the men's final with a score of 85.50, which he described as the best run of his life.
But despite his "amazing" experience in Sochi, he is pleased to be back in the UK.
"Sometimes it just feels like you're trapped in a little bubble," he added.
"Coming back to the UK and having to wear the kit for the rest of the Games is quite funny because you do get quite a lot of attention from it.
"The support has been crazy, I can't thank everyone enough."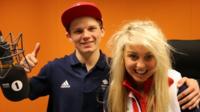 Jamie and Aimee will now be cheering on their team-mates from the sofa and, despite having just arrived home from Russia, they're not keen to have a break.
"We're going to get our backsides in the gym," said Aimee.
"We're currently contemplating going to the snow dome actually. We might rock up and do a few runs with the locals."
Jamie and Aimee will next compete in an event in America on 3 March.
Follow @BBCNewsbeat on Twitter