JK Rowling: Harry Potter spin-off script is finished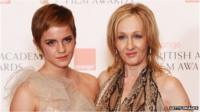 Author JK Rowling says she's completed the draft script for the Harry Potter spin-off film Fantastic Beasts And Where To Find Them in just 12 days.
In an interview done by actress Emma Watson, the writer said she initially thought she would write only the plot but before she knew it, she had scripted the draft.
"I thought, I'll give them this plot and then - fatally - I sat down and thought, 'I just wonder what it would look like...', and wrote a rough draft in twelve days!"
The interview is published in full in the latest edition of Wonderland Magazine, while Emma Watson played Hermione in the Harry Potter films.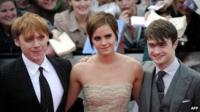 Fantastic Beasts And Where To Find Them is based on the textbook Harry Potter uses at Hogwarts, a guide to magical creatures written by fictional author Newt Scamander.
Warner Bros said the film series was part of an "expanded creative partnership" with the best-selling author but has given no indication as to when the film could go into production.
Rowling's interview also reveals that inspiration for this project hit her at the most unexpected moments.
"I'm able to concentrate to a degree where I can totally shut everyone out, write it down or really commit it to memory" she said.
The author added that writing the Harry Potter books taught her to manage her time.
She said: "I do think my apprenticeship writing the first three Harry Potters when I was a single mother and didn't have a lot of support meant that I learned to be very efficient at using the time that I have."
Follow @BBCNewsbeat on Twitter