Fall Out Boy create their own version of Flappy Bird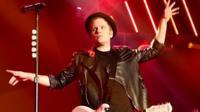 Fall Out Boy say they are to release their own version of viral app Flappy Bird.
"Rome wasn't built in a day, but this game was," the American band posted on their official website.
They added: "We bring you Fall Out Bird...shoutout to the OG Flappy Bird, RIP."
The band say their adaptation of the game is set to be launched later this week after the original was removed from app stores on Monday.
Dong Nguyen, who created the game in just two to three days, was making as much as $50,000 (£30,482) a day from advertising revenue.
In a series of Twitter posts, he said the removal was not due to legal issues and that he may make a sequel.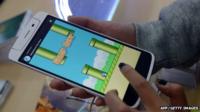 Flappy Bird had been downloaded more than 50 million times, making it this year's most popular mobile game so far.
In an interview with Forbes, the "stressed" 29-year-old developer said: "Flappy Bird was designed to play in a few minutes when you are relaxed.
"But it happened to become an addictive product. I think it has become a problem. To solve that problem, it's best to take down Flappy Bird."
Fall Out Bird is not the first game to feature the group.
In 2009 they appeared in Fall Out Boy Trail, a version of Oregon Trail which is an educational video game used in North American schools.
The band, who released their fifth studio album Save Rock and Roll in October last year, are set to play a six date UK tour in March this year.
It will start at Cardiff's Motorpoint Arena and will be followed by shows in Birmingham, Manchester, Newcastle, Glasgow and London.
Follow @BBCNewsbeat on Twitter