Two teenage boys charged in US 'satanic' ritual murder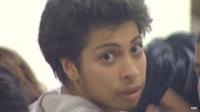 Two teenage boys have been charged in the US with the sexual assault and ritual murder of a 15-year-old girl.
Jose E Reyes, 17, and a 16-year-old boy, who cannot be named for legal reasons, are accused of the killing of Corriann Cervantes.
Prosecutors in Texas said the pair believed they were doing a deal with "the devil" when they killed the girl.
They are also accused of disfiguring the girl's body, including carving an upside down crucifix on her stomach.
Officials say that the boys lured Miss Cervantes to an empty apartment in Houston, Texas, on 5 February.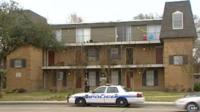 Harris County prosecutor John Jordan said the younger boy had heard Reyes say that he had sold his soul to the devil and the 16-year-old wanted to do the same.
He added: "The juvenile inquired... that if he committed a murder, would that basically initiate him into being able to sell his soul to the devil, of which Mr. Reyes said, 'Yes.'
"What happened in that vacant apartment was sadistic. What will eventually happen in the... courtroom will be justice".
Authorities are still trying to determine how Cervantes died, he said.
Police said the Miss Cervantes' body was discovered early Saturday when someone who lived in the block of flats noticed the door to the empty apartment was open.
'Devil worship'
Jose Reyes, who was arrested Sunday, made a brief court appearance on Tuesday. He is being held without bond in the Harris County Jail.
His lawyer, Jerald Graber, said he could not comment on the case because he had just been appointed by the court and knew few of the details related to the charges.
The 16-year-old boy is in being held in a juvenile detention facility.
Prosecutors say Jose Reyes' family first went to authorities after the 17-year-old made "some admissions" to them about what had happened.
"They did the right thing. Clearly they were offended by his conduct," Mr Jordan said.
There was evidence of "devil worship and things of that nature" at the Reyes family home, he added.
No decisions have been made by prosecutors on whether the 16-year-old will be tried as an adult.
Follow @BBCNewsbeat on Twitter