Simon Cowell: I signed for X Factor UK last year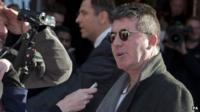 Simon Cowell has revealed he signed a deal to return to The X Factor in the UK last year.
He also confirmed the US version has been pulled because the network wanted him to appear as a judge.
"They would have taken the American show but they wouldn't take it without me. We sort of booted them off I suppose," he explained.
Last week ITV bosses announced Mr Cowell will lead the judging panel when the show returns for its 11th series.
Simon Cowell quit the UK panel in order to establish the series in the US, but audience numbers there have not been as high as he hoped.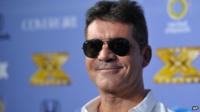 "I don't know why any TV show wants to compete in America right now," he said.
"There's going to be something like 14 talent shows on American TV, I've got one of them (America's Got Talent) but it's become like a joke."
The 54-year-old's entertainment company Syco co-produces The X Factor.
Viewing figures for recent series of The X Factor in the UK have fallen and it has been beaten by BBC rival entertainment show Strictly Come Dancing, where once it was way ahead.
"X Factor UK is like my baby and I've always loved doing the show.
"And I want to go back to where we left off in 2010."
Follow @BBCNewsbeat on Twitter