Parents 'left behind' by how children access porn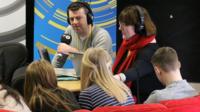 Parents have said they feel "left behind" by the technology their children use during a special Safer Internet Day programme.
The 30 minute live special discussed how and where young people watch porn and how the affect it has on people who watch it.
It also focussed on the potential dangers of so-called "hook-up" apps.
The show included discussions with parents and pupils at Bramcote College in Nottingham.
Access to online porn
Around half of 15 to 17-year-olds have accessed pornography on a smartphone or tablet, according to a survey by mental health charity Young Minds.
The poll of 2,000 people aged 11 to 25 also suggests a third of 11 to 14-year-olds had watched porn on a mobile device.
The pupils
Students were asked if they had seen anything online they thought was disturbing at a younger age.
Sammy said: "When you're younger you go on normal gaming websites and you get pop ups all the time.
"Sometimes porn doesn't come up as pornography so when your parents do put blocks on your computer it sometimes gets through anyway.
"It's just so easy to access it's unreal."
Ben said the internet has made it easier for children to avoid having awkward conversations with their parents about relationships.
When asked if he was worried that searching online would lead to finding uncomfortable content he said: "You can go out on a Friday night and see just as traumatising sights."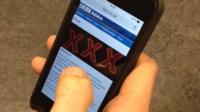 Other pupils, Scarlett and Zak, suggested that porn is very easy to find and gives an unrealistic perception of what relationships are like.
The parents
Father of two John agreed.
He said: "I've got two daughters, one's not a teenager yet and one is 17. That is my concern that is the perception that boys will have and what they expect of the girls.
"It's having the conversation with your children and making them understand that what they talk about as a group... it's not real."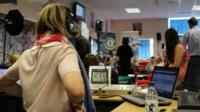 He added some parents don't want to have conversations about relationships with their children, which leads to some young people finding inappropriate material online.
Hook-up apps
Over the last few years there's been a rise in so-called 'hook-up' apps, that allow users to find people near them to have casual sex with.
But now the National Crime Agency is warning users to make sure the people they're meeting are above the age of consent.
The pupils
Bethan said: "I think apps have gone way out of proportion. You don't have to prove your age, you can say however old you are. That's putting risk on yourself but it's also putting risk to the people on the site.
"It's so dangerous, meeting up with someone you don't know. It can just destroy relationships."
However, another student said sites like Facebook, Twitter and Tinder can help build relationships if they are used in the right way.
The parents
Alison said one of the main problems with porn and online relationships is that young people use technology their parents don't understand.
She said: "I've got two small boys, 11 and seven, they know far more than I do in terms of technology. I'm so left behind. They're almost talking a different language to me, I want to understand what they're doing."
Follow @BBCNewsbeat on Twitter