One Direction's Niall Horan in Twitter rugby debate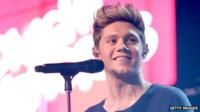 One Direction's Niall Horan has been involved in a Twitter row with Wales scrum-half Mike Phillips.
Horan was watching a Six Nations match between Ireland and Wales on Saturday, which Ireland won 26-3 in Dublin, and decided to tweet the rugby player.
After Phillips was sent off during the game, the singer tweeted: "Mike Philips is like a child throwing his toys out of the pram!
"His attitude is terrible, looks like a right arrogant idiot."
It was followed by Phillips inviting the Irish singer to a Welsh training session.
He tweeted: "Come down to training in the week big boy. Bring the rest of The Beatles (One Direction) with you."
Rob Kearney then joined in in the conversation. He replied saying, "I've got your back" in support of the singer.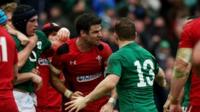 However, Phillips later congratulated Horan and Kearney on the win and asked, "where did it all go wrong?"
The debate came to a close when the Irish player added it was "all a bit of Sunday fun" and that he and Phillips had gone for a drink after the game.
After two weekends of the tournament, Ireland are top of the Six Nations table.
One Direction are set to start their Where We Are world tour later this year, which includes dates in London, Manchester and Edinburgh.
Follow @BBCNewsbeat on Twitter