Five things we're still wondering about slopestyle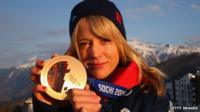 Jenny Jones has described the last past 24 hours as "a whirlwind".
The snowboarder became the first British athlete to win a medal on snow after taking bronze in women's slopestyle on Sunday in Sochi.
It is the first time the event has been included in the Winter Olympics.
But as fellow British boarder Amiee Fuller joined Tim Warwood and Ed Leigh in the commentary box, their excitement about the final might have left some viewers puzzled about the sport.
Is 'squirrely' a real thing?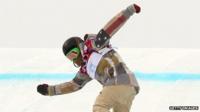 After being questioned about using the term "a little bit squirrelly" he explained: "You know when you're just not perhaps in control. It might not be a technical term from the sport."
Amiee Fuller added: "Like you know when you see a squirrel flying through the air?"
"Quite frantic," said Leigh.
Is running up-hill a warm up technique?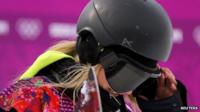 Before her 49.00 scoring first final run, Austria's Anna Gasser had to make her way back up the hill after starting too early.
It clearly wasn't a planned part of preparations and saw her coach skidding down the mountain at the Rosa Khutor Extreme Park to help her out.
Ed Leigh said: "She wasn't settled when she dropped in then, and that reflected in that run."
Should I just huck it?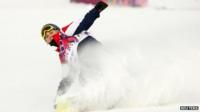 Slopestyle is marked on the difficulty of tricks landed and how well they are carried out.
Both Britain's Billy Morgan and Amiee Fuller used "huck it" to describe going all out to get the top marks over the weekend.
But over the course of the event, it became clear the judges marked higher for big air (lots of height) and tricks being landed cleanly.
Fuller said: "You've got to put everything you've got on the table, but you've got to make it look good too. If you can do that then you're in for a good result."
What is a 'nindie', 'napan' or 'nute'?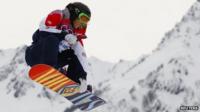 After American athlete Karley Shorr's first run Aimee Fuller said: "All the people back home must be so confused by these strange terms that we use."
When the boarders hold the board in the air it is known as a grab, depending on which part of the board is touched it is given a different name.
For example, a grab at the back of the board - the tail end- is called a tail grab.
Ed Liegh explained that: "If you grab the wrong side of your foot, you're actually technically grabbing on the nose. So which ever grab you were aiming for you just add an n to the start."
In this case the inde, Japan and mute grabs were subject to the changes.
Why couldn't Tim Warwood feel his legs?
Jones, 33, held the lead after scoring 87.25 points in her second run and had an agonising wait while 10 athletes tried to better her score.
When she went into gold medal position after her second run, the commentator was so excited that he claimed he couldn't feel his left leg.
He didn't explain why.
Follow @BBCNewsbeat on Twitter