Singer denies slipping ecstasy into woman's drink in LA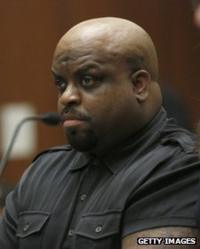 Cee Lo Green has denied a charge of secretly slipping ecstasy into the drink of his dinner date during a court appearance on Monday.
It's claimed the incident happened in July 2012 at a sushi restaurant in LA.
The singer first appeared in court last October on the sole charge of furnishing a controlled substance, which carries a possible jail sentence of up to four years.
An earlier rape charge was dropped due to insufficient evidence.
Cee Lo Green, whose real name is Thomas DeCarlo Callaway, is a coach on The Voice in the US.
The singer has hired top lawyer Blair Berk, who has defended other celebrities in the past including Lindsay Lohan and Gerard Butler.
Speaking outside Los Angeles Superior Court, Green told reporters: "I'm a fan of good, clean living."
The judge scheduled another hearing for March, when a preliminary hearing date will be set.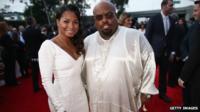 Cee Lo Green began his music career in the 1990s as a rapper with hip-hop group Goodie Mob.
He then launched a solo career before finding success as part of the duo Gnarls Barkley after they released their first album together, St. Elsewhere, in 2006.
The album's first single, Crazy, became an worldwide hit.
He has also won five Grammys and various other music awards.
Follow @BBCNewsbeat on Twitter