Super Bowl XLVIII : Seven things you may have missed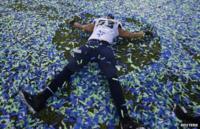 Sunday saw Super Bowl XLVIII take place in New Jersey.
It was the first time America's biggest sporting event was staged outdoors in a cold weather state.
There were pre-match fears of an 82,500-strong crowd having to endure sub-zero conditions but they proved groundless with the temperature at the roofless MetLife Stadium just outside New York hovering around 9C (49F).
It's a well known fact that a lot goes on off the pitch at the Super Bowl.
Here are seven things you may have missed.
Foo Fighters played in a car park the day before the game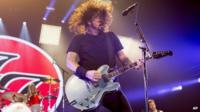 Dave Grohl and co kicked off Super Bowl weekend by playing a concert in a New York "parking lot".
The band were playing at a specially constructed tented arena in the car park of the Bud Light Hotel Amphitheatre in Manhattan.
Beyonce and Jay Z performed together again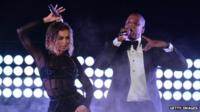 The couple, who recently opened the Grammy Awards (above), were also part of the weekend's entertainment.
It means the former Destiny's Child singer has now performed at two Super Bowl weekends in a row, having played the half-time show last year in New Orleans.
Bruno Mars opened his half-time show with a drum solo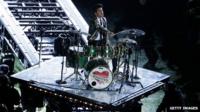 The Hawaiian singer joined the likes of Michael Jackson, Madonna and U2 on the list of Super Bowl half-time performers.
He performed a medley of hits including Locked Out Of Heaven, Treasure and Runaway Baby and Just The Way You Are.
He became a Red Hot Chili Peppers fan boy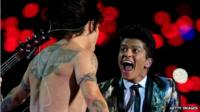 The half-time show also included Red Hot Chili Peppers joining the stage for a rendition of Give It Away.
Anthony Kiedis, Flea, Chad Smith and Josh Klinghoffer were backed by Bruno's band of sequin-coated musicians and got more applause than the main act, according to reports from inside the stadium.
Bob Dylan also made an appearance in the ad break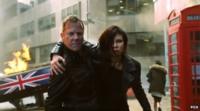 More than 100m people were expected to watch the American football final, inflating the prices for each commercial to a reported $4m (£2.4m) per 30-second spot.
Paying so much for air time means companies go all out to make their adverts stand out form the crowd.
Singer-songwriter Bob Dylan, 72, appeared in two adverts while David Beckham, Kermit the Frog and Arnold Schwarzenegger playing table tennis in a wig were also among the stars in the ad breaks.
New Transformers and 24 trailers were aired as well.
Oh yeah, there was a game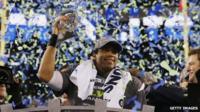 The Seattle Seahawks dominated Super Bowl XLVIII, thrashing a badly misfiring Denver Broncos 43-8.
Legend of the sport and Denver quarterback Peyton Manning made his third appearance on the sport's biggest stage but was overshadowed by his opposite number, second-year quarterback Russell Wilson (pictured).
Things happened like they do in the movies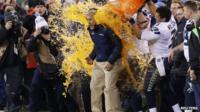 Despite being the underdogs, the Seahawks earned the equal third biggest win in Super Bowl history.
And in a true sporting cliche, their head coach Pete Carroll had energy drink dumped on him in celebration near the end of the fourth quarter.
Seattle-based rappers Macklemore and Ryan Lewis sang at a celebration event on Sunday night and will have a parade through Seattle on Wednesday.
Follow @BBCNewsbeat on Twitter