Katy Perry is first to reach 50m followers on Twitter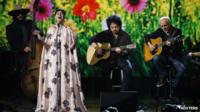 Katy Perry has become the first person to reach 50 million followers on Twitter.
The singer overtook Justin Bieber as the most followed person in November last year, although he was the first to hit the 40 million mark in June 2013.
Katy Perry is ahead of the teenage pop star by 800,000.
Ashton Kutcher was the first to get one million followers in 2009 with Lady Gaga the first to 10, 20 and then 30 million in October 2012.
However, it is unclear how many of Perry's followers are real.
Status People surveyed 33,000 people across her first 1.25 million fans on Twitter last year and found 42% of them were fake.
Earlier this week, Katy Perry performed on stage in Los Angeles as part of a tribute to The Beatles.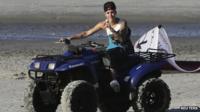 The 29-year-old joined other musicians, including her boyfriend John Mayer, to record a TV programme called The Night That Changed America: A Grammy Salute To The Beatles.
John Legend and Alicia Keys sang Beatles track Let It Be.
Katy Perry performed Yesterday, while her boyfriend, singer and guitarist John Mayer, teamed up with Keith Urban on Don't Let Me Down.
Brad Paisley and Pharrell Williams performed a version of Here Comes the Sun.
Katy Perry's track Dark Horse featuring Juicy J is at number one this week on the US Billboard Hot 100 singles chart.
Most followed accounts on Twitter (January 2014)
1. Katy Perry
50 million
2. Justin Bieber
49.2 million
3. Barack Obama
41.1 million
4. Lady Gaga
41 million
5. YouTube
38.9 million
6. Taylor Swift
38.7 million
7. Britney Spears
35.6 million
8. Rihanna
33.8 million
9. Instagram
30.5 million
10. Justin Timberlake
30.2 million
Follow @BBCNewsbeat on Twitter