Superdrug pulls celebrity weight scale after complaints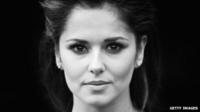 Beauty and health retailer Superdrug says it won't be going ahead with the sale of a celebrity scale after criticism from customers.
Celebrities such as Rihanna, Towie's Gemma Collins, Cheryl Cole and Khloe Kardashian appeared in gold stars rather than a weight.
In a statement Superdrug said it had made one scale and it was a prototype.
A spokesperson confirmed the firm would not be producing or selling the scales at any of its branches.
The company also tweeted a statement, which said: "At Superdrug we're committed to helping people get healthier, and supporting those who want to lose, maintain or put on weight in a healthy and responsible way.
"We created a prototype set of celebrity scales to move the conversation away from weight being perceived as a number, as we want to recognise that everyone is different.
"However, we've listened carefully to all our customers' comments and can assure them that the prototype celebrity scales will not be trialled in our stores."
Singer Cheryl Cole commented on Twitter said she was "shocked" at her name being used on the product.
"Please do not include me on your scale," she said. "Girls should be worried about the number on their exam page not a weight scale."
Follow @BBCNewsbeat on Twitter