Somerset farmer: Flooding could affect us for a year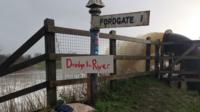 The head of The Environment Agency has defended its handling of floods across England, saying staff have "worked their socks off" over the past two months.
It comes after criticism that they failed to protect areas of Somerset, which have been badly hit by flooding.
The National Farmers Union (NFU) in the south-west of England wants local rivers dredged straight away.
They say floods have left farmers in a state of "utter despair".
Environment Agency chairman Lord Smith said dredging would "probably make a small difference".
There is now concern that flood damage will increase the price of meat, milk and vegetables.
James Hall, 31, farmer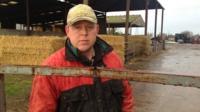 James Hall has a farm near Bridgwater in Somerset.
He has been farming with his dad since he left school and has recently been taking on more responsibility.
He said flooding was a big problem.
"You put all the bridges back together, get the land back together, just to see it all happen again.
"It's affecting our business very strongly, the grass out there is dying at the moment and that has a knock-on affect for at least another year."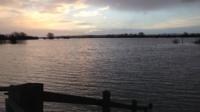 Much of James' farm is under water and on the same road, houses are flooded. One farmer has 90% of his land under water.
"As soon as the water goes we've got a very big clean-up operation," he said.
"We've had to evacuate animals to makeshift pens. It's just added a lot of work to our normal heavy workload anyway."
He said that last year it cost them £30,000 to clear up after flood damage and he says he doesn't know how much it will cost this time.
Follow @BBCNewsbeat on Twitter