Winter Olympics: GB skier says Sochi 'doesn't feel real'
Rowan Cheshire says going to her first Olympics "hasn't started to feel real yet at all".
The 18-year-old halfpipe freestyle skier is part of a 56-strong British squad for the Sochi games, the largest since Calgary in 1988.
Team GB, which has been predicted its biggest medal haul ever, includes a record number of 19 skiers and snowboarders.
"I still feel like I'm kind of in a dream," added Cheshire.
In January, the teenager became the first British female skier to win halfpipe gold at a World Cup event in Calgary, Canada.
She is ranked number seven in the world.
She said: "I suppose winning the world cup, it has put a lot of pressure on for Sochi to win a medal but to me my goal was to get to the Olympics."
Cheshire started skiing at the age of 10 when her father introduced her to the sport as a hobby.
She practised at slopes in Stoke and Manchester before going to freestyle training camps, also known as grom camps, where she was first noticed by Great Britain coaches.
"It definitely feels like a bit of a blur because I'm still young and it doesn't really feel like it. I'm just overcome with excitement."
But she admits balancing training and competing around the world with A-levels hasn't always been easy.
"When I'm home, obviously I can't do the normal going outside of it that a normal 18-year-old would do," she admitted.
"Going to uni is postponed, but I enjoy the lifestyle of skiing.
"It has been hard but I love my sport a lot and I've got my friends [in the team] who are doing the same thing."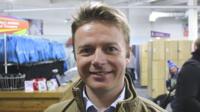 The freestyle skiing squad is the youngest group of athletes in Team GB, which includes other medal hopefuls James Woods, 21, and Katie Summerhayes, 18, who have also been on the podium this season.
Freestyle coach Pat Sharples says he's feeling the pressure of GB's medal predictions, two of which are expected to come from his squad but says it's understandable.
"I sort of get that - there's been lots of amazing results. It's on the cards," he said.
"We've got a lot to do when we get over to Sochi but anything's possible, that's for sure."
Rowan Cheshire will compete in the halfpipe freestyle skiing competition on 20 February.
Information on the BBC's coverage of the 22nd winter Olympics can be found on the BBC Sports website.
Follow @BBCNewsbeat on Twitter