Snoop Dogg is 'shut down' by firefighters in Australia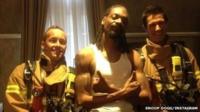 Snoop Dogg posted pictures of himself with firefighters in Australia after they attended a call-out at his hotel.
The rapper put pictures of him and the firemen on his Instagram account, with the caption "Fire dept shut it down!"
Some reports suggested they responded to smoke detectors in the musician's own room but an attending officer said it was a false alarm.
The Faster Louder news site spoke to South Melbourne Senior Station Officer Trevor Bowen who confirmed the details.
"While we were there a very famous guy said to us that he had always wanted to be a firefighter and he asked us if he could get a photo with us, and of course we knew who it was, and we obliged," he explained.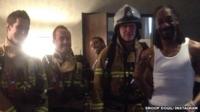 "He said he was out for the Big Day Out [a concert in Melbourne], very nice, very friendly, and if you didn't know who he was you'd just think he was a normal guy who was having a really happy chat with us.
"He's OK, he's fine and the coolest part of it was that he asked us for a photo of which we gladly obliged and then we took some ourselves… I might have to ask him to stop stalking me at this rate."
The details were also confirmed on Melbourne Fire Brigade's official Twitter feed and they posted further pictures of the rapper.
The department took the opportunity to speak out about fire safety.
"This is an opportune time to make sure you have a correctly fitted, working smoke alarm in your room," Bowen added.
Follow @BBCNewsbeat on Twitter