DJs say celebrities are muscling in on their business
24 January 2014

From the section

Music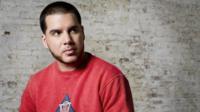 Some of the UK's top DJs say that they have seen an increase in the number of reality TV stars and celebrities booked for club sets.
"I know a lot of good DJs who don't get bookings," said BBC Radio 1Xtra's CJ Beatz.
"If you are a celebrity it definitely does edge you over someone who's technically gifted."
CJ Beatz also goes by the name of Mr Wide Awake because of his hectic workload.
The 1Xtra presenter said that, although he hasn't seen a change in the number of gigs he's booked for, he has noticed more club nights being headlined by celebrities.
He said: "I practiced in my bedroom for years and then when I finally thought I was ready I did parties, I did lots to really hone my craft."
Another 1Xtra DJ, Ace, has been collecting records since he was eight years old and that he went without lunch to buy the latest imports.
He says on one occasion a venue called him to cancel a night they had booked him for, only for him to see the cast of a reality TV show were still on the bill.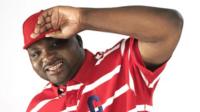 "I think it's quite disrespectful to people who've really been learning to be a DJ and really honed their craft," he said.
"Then you just hire somebody because they sat in a house in Middlesex somewhere for six weeks."
DJs claim it's not just money they are losing out on. They say celebrities muscling in on their business also means new talent might get squeezed out.
Both Ace and CJ Beatz admit it makes business sense for a promoter or venue holder to book whoever is likely to sell the most tickets.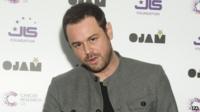 Danny Dyer is one actor who is available for club DJ bookings and he says owners have to use whoever gets most people into their clubs.
"I think if you're a good enough DJ and you believe in yourself enough you'll crack on. You got to keep at it," said the EastEnders star.
"It's tough out there. Nightclubs are struggling so they need to get a face in that will have people buy a drink and want to take a picture and stuff."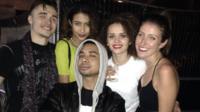 At a club in south-east London there are varying views about the importance of who plays the music.
"You do what you have to do to work and keep busy," said drama student Jonelle Rowe.
Twenty-year-old student Molly Cochran said: "DJ'ing is a talent. Being a reality star isn't. So I guess it's unfair for the DJs who's spent years and money trying to make it."
Meanwhile, Tobias Morrissey, 20, has a more straightforward view.
"If a song makes me dance, it makes me dance. And I go to a club where the music makes me dance."
Follow @BBCNewsbeat on Twitter