Newsbeat's guide to... Ukraine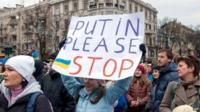 A deadline to leave eastern Ukraine has been ignored by pro-Russian militants, who are still occupying government buildings in the area.
The interim president of Ukraine had said there would be military action if they did not leave by 06:00 GMT.
The Russian flag was still flying over the police station seized in Sloviansk, journalists said.
An emergency meeting of the UN Security Council took place on Sunday, including countries such as the UK and US.
Russia asked Ukraine not to use force against protesters in the east of the country.
Why did the protests start?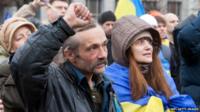 Ukraine became an independent country in 1991 after splitting from the Soviet Union.
Many Ukrainians want their country to eventually join the EU.
In November 2013, President Viktor Yanukovych backed out of a deal to increase ties with other European countries, and chose a closer relationship with Russia instead.
What's been happening so far in 2014?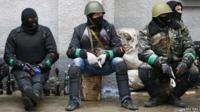 Demonstrators became increasingly angry following the introduction of strict new anti-protests laws and attacks on opposition activists.
Their protests spread, with the worst violence since World War Two.
In the end the president stepped down after calls for him to go. The prime minister and his government resigned in January.
In February Russia's parliament authorised the use of troops in a strategically important area of Ukraine called Crimea.
Crimea voters later chose to join Russia in a disputed referendum and Russia then absorbed the region.
Gas row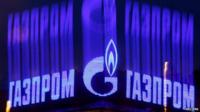 Russia has threatened to cut gas supplies to Ukraine because of the dispute over prices.
That could also affect European countries as Russian gas is delivered through Ukraine.
The immediate dispute is about Ukraine's very large unpaid gas bill of $2.2bn (£1.2bn), according to the Russian state-controlled utility Gazprom.
A loan from the EU to help with the bill resulted in Gazprom raising the price Ukraine will have to pay for its gas in future by 81%.
What will happen next?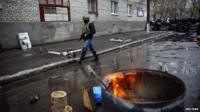 The fast pace with which events unrolled in Crimea make it hard to predict what might happen next.
A presidential election at the end of May is currently expected in Ukraine.
There are talks of further sanctions against Russia, though getting a consensus from all 28 EU members may be more complicated without a clear Russian invasion.
Diplomatic talks are also planned for Thursday between Russia, the US and the EU in Geneva.
Follow @BBCNewsbeat on Twitter