Zac Efron: In the best place I've ever been after rehab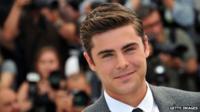 Zac Efron says he is "in the best place I've ever been" after spending time in rehab during 2013.
Talking on the Today show in America the 26-year-old said: "I've never been this happy before."
The actor, who was promoting his new film That Awkward Moment, revealed in September last year that he had completed a course of treatment.
However, it is not clear what Efron was treated for while he was at the facility.
The former High School Musical actor is an executive producer of That Awkward Moment, which also stars Miles Teller and Michael B. Jordan.
Adding to his answer about his time in rehab, Efron said: "I'm extraordinarily grateful for these guys (cast mates) and to be here promoting this movie.
"Things are good, thanks for asking."
The actor also recently spoke to People magazine about his treatment.
"I learned so many things. So much," he said.
"The best part of it was being able to reflect upon that experience and realize how much I have learned about myself and the kind of man I want to be."
Efron is currently working on another new comedy with Seth Rogen called Neighbours, which is scheduled to be released later this year.
Follow @BBCNewsbeat on Twitter