Sam Smith headlines Radio 1's Future Festival
23 January 2014

From the section

Music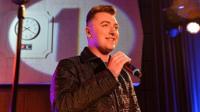 Sound of 2014 winner Sam Smith has headlined BBC Radio 1's Future Festival.
The event, at the BBC's Maida Vale studios in west London, showcases new and emerging musical talent.
It was broadcast live on the network. with a live audience of 200 people and Radio 1 DJs Zane Lowe, Annie Mac, Greg James and Huw Stephens also took part in the event.
"What is important about tonight is that it is all live," said Huw.
"I think it's down to the taste of the DJs that the line up is always good.
"It's a mish-mash representation of some of the artists that we, in the night-time, want more people to hear," he added.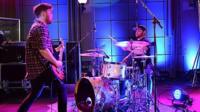 The indie four piece Catfish and the Bottlemen kicked off the evening of live music.
They were followed by electronic duo Gorgon City, brought on special guests Yasmin, MNEK and Liv for their set.
"Me and Matt are used to playing DJ sets in a big club at four in the morning," explained Kye Gibbon.
"Playing at something like this is completely different, it's a wicked challenge and something that we will probably be doing more of in the future so it's good to get the practise in.
The venue itself was exciting enough for some of the artists performing.
MNEK had played at Maida Vale once before but was delighted to be back.
"I was here last year to do something with Rudimental, a session with Zane Lowe, it was amazing, I love this place," he explained.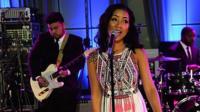 Other highlights included the soulful sounds of Sampha and the only international performer, American singer-songwriter Jhene Aiko.
George Ezra was using his performance as a warm up for his very first headline slot in London.
"I've got to jump off from playing this set, jump in a cab, grab a drink of water and go hello to everyone at the next gig," he said.
He also admitted it wasn't so bad to be in such demand, so early in his career.
The singer-songwriter from Bristol is currently enjoying a lot of buzz around his music.
"It's all just good fun though isn't it, it means my tour is now sold out, which is nice, the fact that people are going to be at my gigs," he added.
Indie duo Royal Blood, who will support Arctic Monkeys at Finsbury Park later this year, were also excited to be at Maida Vale.
"It's good to be playing in that room where lots of legendary bands have played," bassist and singer Michael Kerr said.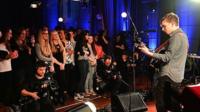 "As we came in there was an orchestra playing and that was incredible just looking at that, then we walked past and played our own music which was great," added drummer Ben Thatcher.
"You can just smell it you know, you can just smell the history, everything is just really old school, the doors are really heavy," laughed Michael.
They played four tracks including Out of the Black and Figure It Out.
The pair say they are not letting the hype go to their heads and will be taking their time with their debut album.
"I don't think we really anticipated getting to this stage, so it's like we're just going to keep doing what we're doing, which is what got us here," explained Michael
Some of the biggest cheers of the night were reserved for the man who is destined to be massive in 2014, if you believe what the recent polls are saying.
Sam Smith topped the BBC Sound of 2014 list and has already won a Critics' Choice Award from the Brits.
He performed four tracks including Nirvana and Money on My Mind.
All the performances from Future Festival are available to watch on the BBC Radio 1 website.