Sundance award winners: Completely in awe of everything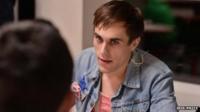 The winners of a special jury award at the Sundance film festival in Utah say the experience has been "surreal".
Welsh actor Mathew David and Norwegian director Magnus Mork's film, Burger, picked up a direction and ensemble acting prize.
Mathew said: "Since we came here, me and Magnus have just been in awe of everything."
Judges said they chose the 11-minute film "for it's uncanny observation of complex social dynamics".
'Like children'
Burger, which was funded by Iris Film Prize, is about an evening in a fast food restaurant as groups of people from different walks of life meet for the first time.
"It's been surreal the whole festival," said Magnus.
Matthew added: "We're like little children, we love it. We never expected to win an award at all."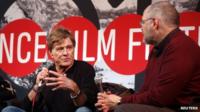 The Sundance festival was set up 30 years ago by movie star Robert Redford.
Indie movies from 37 different countries have been shown over the past week.
With low-budget films squeezed by theatrical releases and streaming services like Netflix, organisers say the event is a place for new artists to develop.
"We were just happy to be invited," said Matthew.
"There's so many celebrities, we walked past Selena Gomez and didn't even notice until later. It's just a real experience."
Judges at the festival also said Burger succeeded "when it could have gone so wrong".
Mathew admits there were some risks making the movie, which was shot on location in Cardiff using actors from the city's Royal Welsh College of Music and Drama.
He said: "We [the cast] were all very different groups of people.
"The acting was quite risky as well, it was quite heightened - but we must have pulled it off.
"I just feel like a Cardiff boy who's been given a great opportunity."
Follow @BBCNewsbeat on Twitter