James Purefoy: More US opportunities for British actors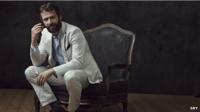 The star of The Following, James Purefoy, says he thinks British actors are working in the US because television there takes risks.
Speaking ahead of the second series of the US show, he says UK TV doesn't do "big series" in the same way.
"I would hate to call it a brain drain but it is an odd thing and I don't know, maybe it's something to do with television here," he said.
"I don't know why there isn't 15 or 22, hour-long episodes of things."
The 49-year-old, originally from Somerset, added: "We don't take that risk here.
"But we [British actors] are given opportunities there [in the US] and we grab them and seize them and we're generally pretty good as actors and we're quite dependable and we know what we're doing."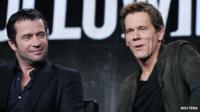 Despite the amount of UK stars working in America, Purefoy says he still finds time to meet up with fellow actors from home.
"A lot of us, not so much hang out, but we are friends and they're all people who have been around my kitchen table on Sunday for lunch," he said.
"Johnny Lee Miller for example, we both film in New York. So we hang out a bit.
"Damian Lewis, he drops through New York quite a lot.
"We've known each other and worked our way up from playing spear carriers at the RSC (Royal Shakespeare Company) and so we have a long history together."
In its first series, The Following made its mark with gruesome scenes and a dark storyline about Dr Joe Carroll (Purefoy) a professor-turned-serial-killer who masterminds a cult of other murderers.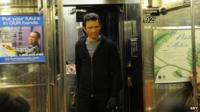 He says playing the charming academic poses some problems for him in real life.
"I am naturally an easy and gregarious person," he said.
"Some people who've seen the show then start thinking that I'm thinking other things at the same time.
"Obviously I'm not. I'm just thinking about what I'm going to have for supper."
The creator of The Following, Kevin Williamson, is also behind the hit horror franchise Scream, as well as Dawson's Creek and The Vampire Diaries.
He set out to make a particularly gory show and Purefoy says that filming some of the more grotesque scenes can be difficult as an actor.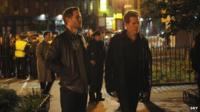 "Between action and cut you're doing something which is pretty stomach-churning," he admitted.
"There have been a couple of times, and I can't tell you what they are because otherwise people will watch those scenes and go, 'oooh he had trouble with that'... but there are some pretty dark and nasty scenes."
He also says fans can have trouble differentiating between him and his character.
"I received this tweet recently where this girl wrote to me and said, 'If I am to die a horrible and gruesome death please let it be James Purefoy who does it.'"
James Purefoy has also appeared as Mark Antony in the HBO series Rome and played Kantos Kan in John Carter.
Series two of The Following starts on Sky Atlantic on Tuesday night at 22:00
Follow @BBCNewsbeat on Twitter