Bombay Bicycle Club say new album is 'most honest' yet
22 January 2014

From the section

Music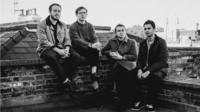 Lily Allen recently criticised record labels for being too scared to take risks on experimental artists.
The singer told NME magazine that music executives just wanted "formulaic and predictable".
As Bombay Bicycle Club prepare to release their fourth album - So Long, See You Tomorrow - they say that couldn't be further from the truth for them.
The London indie band took more time over writing and recording their fourth studio album than any of the previous three and say they believe it is their most experimental yet.
The quartet say they needed the extra time to make their best record to date and their label, Island Records, allowed them the freedom.
"Our label was happy to take the chance and let us produce it ourselves in our humble little studio," says frontman Jack Steadman.
"I think that is a risk, we were incredibly grateful to be given the opportunity to prove ourselves."
The band released their first three albums in three years, but it is two-and-a-half years since their last offering, 2011's A Different Kind of Fix.
They say they wrote twice as many songs for this record and it was by group consensus that they decided which ones made the cut.
"You need the 'yes' moment, the fist pump moment, that's how you know," laughs bassist Ed Nash.
It was an altogether different experience for the main songwriter Jack Steadman.
He says he found himself travelling abroad to write because, as he admits, he can be too easily distracted at home.
He says he ended up living in a Turkish village with a family after playing a gig there.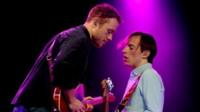 "I had never met them before but they kind of adopted me," he explains.
"I had a little slice of Turkish family life for two weeks where I was just their son.
"I was trying to work every day. I was in my little part of the house and they would always just come knocking.
"[They would say] 'We're going to the shopping centre' or 'We are going to take the kid to school' and I would say 'OK yeah, I've got to come, I'm part of the family now'."
There is a picture of the family in the band's studio, a credit on the album sleeve and the rest of the band say they are looking forward to meeting them.
It has been a steady rise to success for the band who first started playing together when they were 15.
Each of their albums has crept further up the charts. They are selling out venues and are one of a few bands to get played on a variety of radio stations.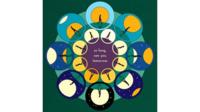 Rather than arriving on the music scene with one huge hit, the band say they are grateful their journey has been more gradual.
"We probably could have signed earlier, but we waited and we wanted everything to be just right and at the right moment," says Steadman.
"There are a lot of bands that are very eager and hungry which is a good thing to have, but I also think you need patience."
There is a great deal of anticipation about the release of their new album, and not only from eager fans.
"We've been waiting for this moment for a very long time," adds Steadman.
"And I think it is the most honest record we have ever made because there were no outside influences, it's all unadulterated Bombay Bicycle Club really."
So Long, See You Tomorrow by Bombay Bicycle Club is released on 3 February
Follow @BBCNewsbeat on Twitter