Your view: Is there still confidence in David Moyes?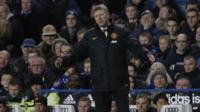 Manchester United manager David Moyes says his side won't give up on the Premier League title.
The team's seventh loss of the season came this weekend as they were beaten 3-1 by Chelsea at Stamford Bridge.
After the game, Chelsea boss Jose Mourniho said it would be difficult for United to win the title.
Manchester United are now 14 points behind league leaders Arsenal and six points off a Champions League place.
Most fans in Manchester say they still have confidence in the manager who took over from Sir Alex Ferguson at the end of last season.
Jason Woods, 24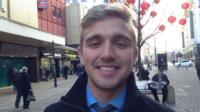 "Terrible game last night (against Chelsea) but it's just taking a wee time. Once Moyes gets into the swing of things, he'll smash it.
"A lot of pressure's been put on him after Fergie left. He can never meet them straight away.
"Manchester United fans will always be for the manager."
Scott, 25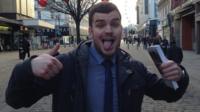 "I had to turn the game off last night but I think Moyes is getting there.
"Everyone deserves a chance, but you've got to fail to get back up again. We're the best fans in the world so we'll stand by him.
"He'll never let us slip all the way down the ranks, we'll get there."
James, 16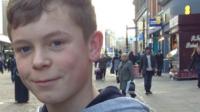 "He's not doing a very good is he? It's a real shame what's happening. David Moyes needs to be sacked in my eyes.
"Sir Alex Ferguson needs to come back or have a word with Moyes."
Tom, 21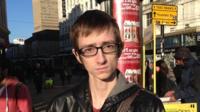 "Everyone has to give the new manager a chance.
"We gave Fergie a chance, Moyes could turn out just as great once he gets used to things.
"If you're a true United fan you'll stay with United no matter what - otherwise you're just a glory hunter."
Follow @BBCNewsbeat on Twitter