In pictures: What is the Syria peace conference?
22 January 2014

From the section

Politics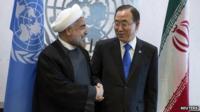 International talks to find a political solution to the three year Syrian conflict are under way in Switzerland.
For months, United Nations (UN), US and Russian diplomats have struggled to get both sides to attend "Geneva II".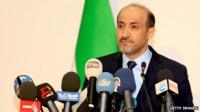 The Syrian government and the main opposition, The Syrian National Coalition, are attending the summit along with international allies.
However, no major breakthroughs are expected.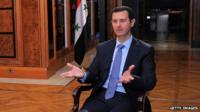 On Monday, the UN secretary-general withdrew an invitation to Iran - a key ally of the Assad government, after it refused to support the plan to form a Syrian transitional government, the basis of the conference.
Syria's National Coalition confirmed they would attend after Iran's invitation was taken back.
The three-year conflict in Syria has claimed the lives of more than 100,000 people.
Why is the peace conference being held now?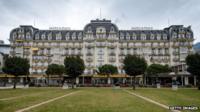 The Syria peace conference has been more than a year in the making.
In May 2013, US Secretary of State John Kerry and Russian Foreign Minister Sergei Lavrov agreed to try to "bring both sides to the table".
Mr Kerry said the alternative was that Syria "heads closer to an abyss, if not over the abyss and into chaos".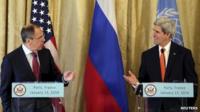 Plans to organise talks gained momentum after a chemical weapons attack on the outskirts of Damascus which killed hundreds of people last August.
In September, the UN Security Council unanimously adopted resolution 2118, which demanded the destruction or removal of Syria's chemical stockpile by mid-2014.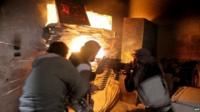 Syrian President Bashar al-Assad said he was committed to destroying his country's chemical weapons, but warned it could take a year.
The preliminary talks to make a transitional government - a temporary government set up to prepare for a permanent government - will continue in Geneva on Friday.
Why is Syria in civil war?
Demonstrations began shortly after anti-government uprisings in Tunisia and Egypt in mid-March 2011.
A group of teenagers spray-painted a revolutionary slogan on a wall in the southern city of Deraa.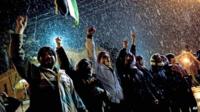 They were arrested and unrest spread to other areas.
A ceasefire to end the violence in Syria started in April 2012 after being arranged by former UN chief Kofi Annan.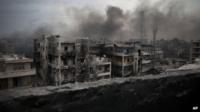 However, fighting continued despite the plan being agreed by both sides.
The International Committee of the Red Cross said in 2012 that the situation in Syria was now regarded as a "non-international armed conflict", a technical term for civil war.
Follow @BBCNewsbeat on Twitter