Family to continue calls for compulsory cycle helmet law
The family of a teenager who suffered brain damage in a bicycle accident say they plan to carry on pushing for a law making it compulsory to wear helmets.
The government says it has no plans for new rules despite an online petition calling for a change in the law.
The Department for Transport says compulsory rules would be difficult to enforce and could have a negative effect on cycling.
Ryan Smith, 16, wasn't wearing a helmet when he was knocked off his bike.
His family says he didn't want to mess up his hair.
In November, the teenager woke up after four months in a coma and has now started speaking in sentences for the first time since the accident.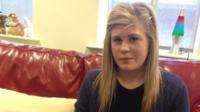 His family set up a cycling foundation after his accident and an online petition.
Ryan is now learning to walk and talk again in a specialist brain injury rehabilitation centre called The Children's Trust in Tadworth, Surrey.
Ministers responded to the petition before it had reached the 100,000 signatures needed for MPs to debate the issue.
Ryan suffered one of the most serious brain injuries known as Diffuse Axonal Injury.
His brain needs to find new pathways to function normally again.
His sister Rachael, 21, has postponed her training as a nail technician to care for him.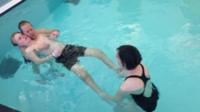 She now drives an eight-hour round trip between Skegness and Surrey to help care for her brother.
"We're not giving up," she says. "We are going to keep going.
"Even if we don't get there this time we are going to do it again and help everyone else, so nobody has to go through what we've gone through.
"Some of them [the government's points] are ridiculous. Cars don't drive any closer. Before my friends didn't wear one [bike helmet] and now they all went and bought one.
"I just hope he has a quality of life. I hope that he can walk, go back to school, play football again."
Follow @BBCNewsbeat on Twitter