Orange is the New Black star injured in US car crash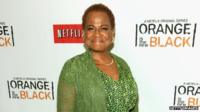 Orange is the New Black star Michelle Hurst has woken up from a coma, following a car accident in the US.
The actress, who plays Miss Claudette in the Netflix drama, was put into a medically-induced coma while surgeons operated near her spine.
Author Piper Kerman, whose book the series is based on, tweeted a link to an online fundraiser for the star.
"She is out of the coma (after 16 days) and has opened her eyes," reads a statement on the site.
"We can't send flowers yet because she is in ICU at UNC Chapel Hill Hospital.
"She is progressing slowly, but progressing! She is out of the medically induced coma and is responsive."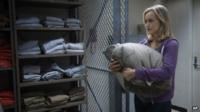 There is no further information on the details of the car accident.
In Orange is the New Black Hurst shares a prison room with the main character, Piper Chapman, played by Taylor Schilling, who was recently nominated for a Golden Globe.
Miss Claudette is feared by many of the other inmates.
Orange is the New Black is one of the most successful programmes made by online TV provider Netflix and has been commissioned for a second series.
The show is based on Piper Kerman's memoir, which tells of her own experiences in a women's prison.
As well as showing films and programmes produced by other companies, Netflix has started making its own original content.
It produces House of Cards, starring Kevin Spacey and Robin Wright while Hemlock Grove has also been picked up for a second season.
Follow @BBCNewsbeat on Twitter