Suicide and ending life: Schools urged to do more
20 January 2014

From the section

Health
Compulsory "emotional health" lessons in schools could help to stop young people ending their lives, according to two leading mental health charities.
The Samaritans and YoungMinds both say anti-suicide classes should be a mandatory part of the curriculum.
Joe Ferns from the Samaritans said he wanted "lessons about coping skills and conversations about seeking help".
Schools have the freedom to tailor teaching as they "know pupils best", the Department for Education said.
Officially close to 1,600 people aged between 15 and 34 took their own lives in 2011, the most recent year for which an age breakdown is available.
It works out at about four deaths in that age group each day.
Statistics also show that men make up around three out of every four deaths from suicide.
"We would like to see more in the National Curriculum around the issues to do with emotional health," said the Samaritans' Joe Ferns.
The Department for Education said schools must "promote pupils' spiritual, moral, cultural, mental and physical development".
Staff had a "freedom to tailor their teaching so that it meets the needs of their pupils", it added in a statement.
"We believe [teachers] know pupils best - not politicians in Westminster."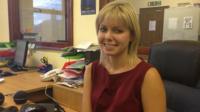 Chris Coombs, 25, from Stourport in Worcestershire, attempted suicide when he was 18, soon after starting university.
"One of the reasons that I didn't reach out [for help] was that it wasn't OK. There is a huge stigma around it," he said.
"Machoism" and "an expectation of what we should be" were part of the reason people did not talk about their feelings, he added.
His friend Ed Birch, also 25, said he regretted not spotting warning signs that Chris may have been feeling suicidal, like being quiet and not speaking or making contact.
Ed added that if he had recognised those signs, he could have "stopped the problem before it became a bigger one".
Teacher Steve Turner runs emotional health classes with 13- and 14-year-olds at Presdales School in Ware, Hertfordshire.
The school has chosen to use the Deal (Developing Emotional Awareness and Learning) teaching programme that has been developed by the Samaritans charity.
"I'm passionate about getting students to understand their emotional health," he says.
"Even if there is only one in the whole year who ends up needing it, they are empowered and enabled to talk properly about issues."
After the class, one pupil said it made her "feel more aware of other people's feelings, and how I treat people".
Alice Newton, 25, is an adviser at youth suicide prevention charity Papyrus.
Young people need to understand life can be tough and "you are going to go through difficult things", she said.
"It's OK to verbalise that you're feeling down or having a rubbish day. The more we talk about suicide, the more we can reduce stigma."
Suicide Survivors with Professor Green is on BBC Radio 1 on Monday, 20 January at 21:00 GMT.
Follow @BBCNewsbeat on Twitter