Professor Green on how his dad's suicide affects him
20 January 2014

From the section

Health
Professor Green is the presenter of a new documentary for Radio 1's Stories called Suicide Survivors. He hears from people who've tried to end their own lives, and asks experts why suicide is the biggest killer of young people. Writing for Newsbeat, the rapper, whose real name is Stephen Manderson, explains here how suicide has affected his own life.
"It's been six years since my dad took his life. I was 24.
I first learned about it on a Wednesday morning.
My grandmother, who I was living with at the time, came into my room in tears.
She just said, 'Stephen, your dad's dead. He's hanged himself.'
They were the words that I woke up to.
I hadn't seen him for six years.
He was always in and out of my life, which caused me great problems as a child.
I loved him to bits but he had issues that he never really resolved.
It was only after Dad's death that I found out one of his brothers had taken his own life, also by hanging, two years prior.
His other brother Stephen, who I'm named after, slipped into a diabetic coma and died before I was born.
We will never know for sure, but there is the chance he brought that death on himself, intentionally.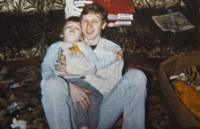 Since Dad died, I've been through a whole spectrum of emotions.
I was angry. I was upset. I was confused. I went through all of those emotions several times.
Initially it was anger because it was such a selfish thing to do.
It also made me realise how stupid not reaching out over pride was.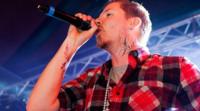 I got married recently. It brought everything back to the surface, because my dad wasn't there to see it.
My father wasn't at my wedding, not because of some unfortunate accident, but because of a decision that he made.
We went up to my nan's house the other day.
Nan was doing what she always does and annoyingly showing my now wife pictures of me as a kid.
Out comes one with my dad.
I haven't cried in years, but I saw his face and it just broke me down.
There was just a void, thinking about how I haven't got him in my life.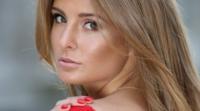 I don't want to get too wrapped up in trying to understand why Dad did what he did.
To hold on to that would be detrimental to me.
Now I've turned 30, I would have to say, reluctantly, that I'm a grown man.
I have to focus in on my life and making better of it.
I'm married and I want to have children.
I don't want to make the same mistakes that my father did.
My song Read All About It, which discusses these issues, was scary to put out.
Writing lyrics helps me get issues out of my head, where they get mumbled and jumbled.
When you put your thoughts on paper, it helps you get them out, so you have something to look at, and analyse.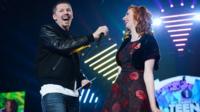 But when you put something like that out there, it becomes something for people to pass comment on and judge.
I get messages from people telling me how much it helped them through a time in their life.
You never expect anything you do to have that positive effect on people. Ever.
I definitely find writing therapeutic. It helps no end.
I've written a lot of things that will never see the light of day though.
I think people should be encouraged to find things that they enjoy that can help them deal with other aspects of their life.
Something else that could be done to help cut the number of suicides, and to reach people who may be considering it, is giving them an avenue to get help.
It needs to be an avenue that people are overtly aware of.
I wouldn't necessarily have thought before, for instance, to phone the Samaritans.
It just wasn't prominent in my mind that it was an option if you were feeling that way.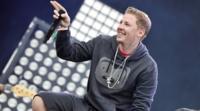 So I think it being part of the national curriculum would be a great idea.
Also, people need to know that three out of every four suicides in the UK are by men.
I think men can be looked at as 'moist' or 'soggy' for talking about how they are feeling.
Something I became really good at was isolating my problems and not dealing with them.
So there needs to be a shift in how people discuss how they feel, especially for men.
I had never thought about it before working on Radio 1's Suicide Survivors but I realise now that it's wrong that it's seen as a strength to put a smile on things.
What is 'strong' about not admitting when you need help?
You're not always going to be happy. That's an unrealistic expectation.
But you're not always going to be sad either.
People need to understand that things will eventually change.
However long that might take, and however much hard work you have to put in, things will change."
Suicide Survivors with Professor Green is on BBC Radio 1 on 20 January at 21:00
Follow @BBCNewsbeat on Twitter