Chris Brown rejects plea deal over assault charge in US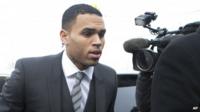 Singer Chris Brown has turned down a deal to plead guilty to a charge of assault in the US.
The star's lawyer, Danny Onorato, said it had been rejected because his client Chris Brown "was not guilty".
The 24-year-old is charged with breaking the nose of a man who tried to take a picture with the singer outside a hotel in Washington DC last October.
His bodyguard, Christopher Hollosy, also faces the same charge.
Mr Onorato said he expected a trial date to be set at a hearing on 20 February.
Chris Brown had his probation revoked in December after he was arrested over the same charge.
The musician did not have to go to prison, but a judge said he would have to continue with anger management treatment.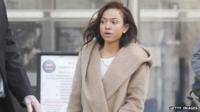 Brown is also due to return to court on 10 February to give an update on his treatment in rehab.
In November, the musician was ordered to spend 90 days in a treatment programme for anger management and other issues.
His probation had already been revoked earlier in 2013 over worries that he hadn't done six months of community service for his 2009 attack on singer and ex-girlfriend, Rihanna.
He was ordered to perform an extra 1,000 hours and had completed 60, according to a probation report in December.
Brown was ordered to serve five years probation for his attack on Rihanna before the Grammy Awards in 2009.
He has until August to complete his community service sentence, which includes activities like roadside cleanup, graffiti removal and other manual labour.
Follow @BBCNewsbeat on Twitter