Former S Club star Paul Cattermole urges band to reunite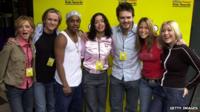 Former S Club star Paul Cattermole has urged the band to reunite.
The singer took to Twitter to contact his former band mates Jo O'Meara, Rachel Stevens, Jon Lee, Bradley McIntosh, Hannah Spearritt and Tina Barrett about a reunion.
The 36-year-old, who left the group in 2002 citing "creative differences", tweeted: "Please re-unite guy's, pleeeeaasse."
Spearritt replied: "OK lol! Let's get those Zimmer frames out."
In October 2008, it was announced that O'Meara, Cattermole and McIntosh were to perform a mini-reunion tour at a number of universities and nightclubs playing a selection of chart-topping songs.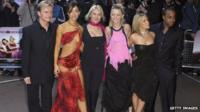 Since then there have been rumours that S Club would fully reunite but that hasn't happened.
The group formed in 1998 and rose to fame by starring in their own BBC television series, Miami 7, in 1999.
Over the five years they were together, S Club (formerly known as S Club 7) had four UK number one singles, one UK number one album, a string of hits throughout Europe, including a top 10 single in the United States, Asia, Latin America and Africa.
They recorded a total of four studio albums, released 11 singles and went on to sell more than 10 million albums worldwide.
The group won two Brit Awards, British breakthrough act in 2000 and best British single in 2002.
In 2001, the group earned the record of the year award for Reach.
They also starred in two films, The Greatest Store in the World in 1999 and 2003's Seeing Double.
After staying together for a while after Paul Cattermole's decision to leave, the band announced they were to split up in 2003 during a live stage performance.
Follow @BBCNewsbeat on Twitter