Honey Boo Boo family involved in car accident in US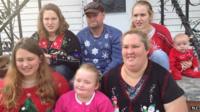 The stars of the US reality show Here Comes Honey Boo Boo have suffered minor injuries in a car accident.
Mama June, Honey Boo Boo's mother, confirmed the details of the crash in a statement via the show's publicist.
"We were in a car accident last night. It was really scary for us, since it was the first time any of us had ever been in a wreck," she told ABC News.
"As always we want to thank everyone for their support and well wishes."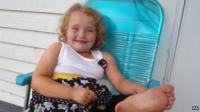 Here Comes Honey Boo Boo features an eight-year-old beauty pageant contestant, whose real name is Alana Thompson.
She first rose to fame in the reality programme Toddles & Tiaras, about US child pageants, before having her own show also starring the rest of her family.
American celebrity news website TMZ first reported the crash and claimed that it happened when another vehicle, without its lights on, hit the family's car.
Sugar Bear (Alana's father Mike Thompson) bruised his back, Mama June (real name June Shannon) is suffering from back and neck sprains and Honey Boo Boo hit her head on a window.
A spokesperson for the show also confirmed to ABC News that Alana's sister Pumpkin (Lauryn Shannon) has chest bruises and is now experiencing panic attacks.
Jessica "Chubbs" Shannon, another of Alana's sisters, was unhurt in the accident.
Their other sister, Anna "Chickadee" Shannon, and her daughter Kaitlyn were not in the car at the time of the crash.
"We are definitely really sore today, but our top priority is to celebrate Pumpkin's birthday," Mama June said.
"She turned 14 today and no matter how sore we feel, we are going to go out and celebrate."
Follow @BBCNewsbeat on Twitter