Kesha treating eating disorder in rehab facility in US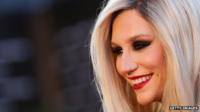 US singer Kesha has entered rehab to get treatment for an eating disorder.
In a statement provided by her spokesman on Friday, the star said she would be "unavailable for the next 30 days" as she sought treatment.
"I'm a crusader for being yourself and loving yourself, but I've found it hard to practice," she added.
The 26-year-old, who is at number one on the Official Singles Chart with Timber, is being treated at the Timberline Knolls centre near Chicago.
Kesha said she wanted to "learn to love myself again, exactly as I am". No other details were released.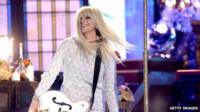 The vegetarian singer, whose full name is Kesha Rose Sebert and is also known as Kesha, rose to fame with her song Tik Tok.
She has also had hits with Crazy Kids and Die Young and featured in the MTV reality series My Crazy Beautiful Life.
In October 2013 a planned Kesha concert was banned by Malaysian authorities, who said it would have hurt cultural and religious sensitivities.
At the time she wrote on Twitter: "To be clear. I did NOT cancel. I was not allowed to play. And then I was going to play anyways and was threatened with imprisonment."
Follow @BBCNewsbeat on Twitter