Angel Haze's label to release album early after leak
19 December 2013

From the section

Music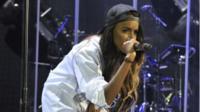 Angel Haze's record label will release her debut album this month instead of next March after she leaked it.
The rapper says she put Dirty Gold online out of frustration because she'd been promised it would be out in 2013.
A statement from Island and Republic Records said: "Angel Haze took matters into her own hands leaking the record via Twitter. Haze's actions have forced her labels' hand."
The album will now be released on 30 December.
The December release will only be available as a digital download because the physical copies of Dirty Gold are not ready to be released.
A separate statement from her label added: "Island is rightly known as the artist-friendly label and we always strive to work with our artists.
"The earliest we can make the album available is 30 December and we are now working towards a physical release."
In a series of tweets the rapper wrote: "Thanks to everyone who stood up for me. My labels didn't think that I would do it, but I did.
"It's hard to put at risk everything I've spent this year working on but I had to for both me and you guys."
The 22-year-old also added that "no-one" should be allowed to mess with people's dreams regardless of who they are.
"They do not own you or your faith or your future and because of what you guys helped me show them," she added.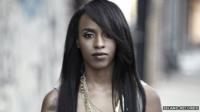 Haze performed at 1Xtra Live in London in October.
Speaking about the album at the event she said: "I just want the rest of the world to enjoy it. I just did the one thing that was buried in the core of me and it makes me proud."
The singer's full album was available to download for free on the artist's Soundcloud page, but it has now been deleted.
A spokesperson from her label added: "When you finish a body of work you're obviously raring to go. We still fully support and back the album."
Dirty Gold features production from Greg Kurstin, who has worked with Lily Allen, and Markus Dravs, who has worked with Arcade Fire and Mumford and Sons.
Her next single, Battle Cry, was written by Australian singer-songwriter Sia, who has recently worked with Rihanna and Rita Ora.
Follow @BBCNewsbeat on Twitter