Christmas trading standards warning over fake alcohol
Trading standards is urging people to keep an eye out for fake alcohol over the Christmas period.
Over the past four years, its growing prevalence has led to it becoming one of the most investigated counterfeit goods in the UK.
Fake alcohol, usually vodka or white spirits, can contain potentially harmful substances like chloroform.
In the past, off-licences and nightclubs have been fined for selling it.
Handley Brustad of the Trading Standards Institute said: "Trading standards professionals are keeping a wary eye for fake alcohol, particularly in the run-up to the holiday period.
"Anyone who is approached at car boot sales, markets or at offices with offers to buy alcohol at cheap prices should be wary because many of these products contain high levels of methanol, which is a poison and in some instances can kill."
Testing
The West Yorkshire Joint Services Laboratory in Leeds carries out tests to confirm that seized items are fake.
Twenty-year-old Rebecca Lass is one of the team.
"Counterfeit vodka is getting that good that you can't tell the difference, which is why we need to do the testing," she said.
"When it's diluted with cola or lemonade people can't actually taste that there's something off."
The process of confirming a fake product includes tests on the liquid's alcohol content.
Other industrial chemicals the lab have found include propanol and methanol.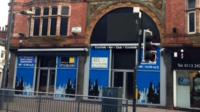 In September 2013, one nightclub in Leeds city centre was fined £5,000 after 656 litres of fake vodka was found on site.
Lee Swift, enforcement officer at West Yorkshire Trading Standards, said: "It's more tempting for shopkeepers, even clubs to some extent, to not go to their legitimate supply chain.
"There's the temptation of buying cheaper alcohol for cash."
According to the Wine and Spirit Trade Association, the alcohol industry is worth £37.7bn in the UK.
Criminals have sought to exploit that market.
A study by the Institute of Economic Affairs estimated counterfeit alcohol costs the treasury £1.2bn every year.
Anyone who suspects their alcohol may be counterfeit is being urged to contact their local trading standards' service.
Follow @BBCNewsbeat on Twitter