Clothing retailers stop sale of angora wool from China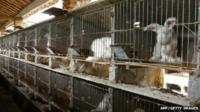 A number of British clothing firms including Topshop have stopped sourcing products containing angora wool after an animal rights charity released a video which they claimed showed cruelty in the fur extraction process.
Peta say the film shows workers in China ripping wool from rabbits' skin.
Online fashion retailer ASOS has brought in a permanent ban on angora sourced from China.
The company has also pulled existing stock from its website.
Peta wants shoppers to not buy jumpers and scarves made using the fur this Christmas.
Philip Green's Arcadia group - which owns Topshop, Topman, Dorothy Perkins, Evans, Miss Selfridge, Wallis, Burton, Outfit and BHS - said they had made changes after listening to concerns from customers.
He said: "We have instructed our suppliers to halt the sourcing of product containing angora fibre whilst we investigate alternatives."
Marks & Spencer said its animal welfare policy did not allow for any live plucking and said it believed that was being adhered to across the angora farms it used.
"We are now carrying out additional visits to these farms to be absolutely sure that this is the case," it added in a statement.
"Also we will not place any further orders with our suppliers for products containing angora wool until we have concluded these visits and reviewed the findings."
Other retailers who have decided to suspend ordering more products containing angora include Next, Primark, New Look and Ted Baker.
Follow @BBCNewsbeat on Twitter